January 6, 2011
Kissn' 102.1 Takes Listeners To A "New Country"
It's been an hour since country music singer Margaret Durante left the KZSN radio station, and the morning on-air crew is still jazzed if that's the right word to use with a trio of country music jocks.
"Anybody can sound good on a CD, but when y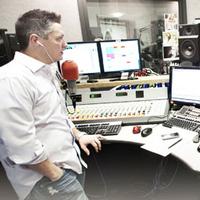 ou hear them in person…," Anthony "Ant Man" Allen said. "It's fun to have people in and then six months later they're huge."
Anthony and co-host Cathy Carrier go on to tease the youngest member of the team, Chase Locke, who readily admits to a crush on Durante.
The episode illustrates what's been happening at KZSN-FM, better known as Kissin' Country 102.1, since Anthony took over as programming director two years ago.
The station is focusing on "new country" artists, from superstars like Keith Urban and Taylor Swift to up-and-comers such as Durante. And a fresh, fast-paced morning line-up has breathed new life into a station that had fallen a bit behind the tastes of many music fans.
"We stay loyal to the roots and foundation of country music," Locke said. "We do play some of the songs people grew up with. but Anthony makes a point to play the new artists."
"It's not your mom and dad's country," Carrier said.
In fact, it's not directed solely at traditional country music fans, but at anybody who likes music.
"Pop music is pulling from country more than ever before," Anthony said.
"We stay loyal to the roots and foundation of country music," Locke said. "We do play some of the songs people grew up with. But Anthony makes a point to play the new artists."
"More than any other station," Anthony said, "we invest in new artists. She (Durante) is a great singer, so it's easy to invest in her."
In true radio co-host fashion, one member of the team barely finishes a thought before another jumps in. The trio, who are on air from 5:30 a.m. to 10 a.m., form an interesting team. Anthony made his name in the bigger, highly-competitive Oklahoma City radio market. About a year ago he persuaded Carrier, who's been on the air for more than two decades in Wichita, to join him in the studio rather than work from home as she had been doing.
"He insisted that I actually start working, so…," Carrier joked.
Locke, an irrepressible former intern, joined nine months ago. The jocks range in age from 50 to 22, which is also where 90 percent of their demographic lies.
Their differing perspectives give them plenty of fodder to talk about between songs. For instance, Anthony is in favor of email holiday cards. Locke would be, if he sent them. Carrier is opposed.
"We get that, she doesn't," said Locke, who often serves as foil or provocateur.
Anthony says Carrier is the real celebrity in the bunch, drawing double-takes whenever the three go out for lunch or beers.
"She is Wichita," Anthony said. "She is Kansas."
Anthony said a couple factors made new country a natural direction for the station to take. One was the emergence of a crop of talented new artists. "The music has changed," Anthony said. Another was the opening of the Intrust Bank and Hartman arenas, which have brought many of the genre's biggest names to town. The station heavily promotes shows at both venues.
"You're seeing people go (to country music shows) you never saw before," Anthony said.
Carrier, who's been involved in the ebb and flow of country music longer than her co- hosts, says it and KZSN are at a high tide right now.
"There's a new life to this station," she said. "We have an absolute blast in here every morning. We hope the listeners are, too."